Mildred Persinger has been one of the unsung heroines of the YWCA, both here in the United States and for women around the world. As an educated southern woman from Roanoke, Virginia, she moved to the New York area with her husband in the 1950s and soon became active with the YWCA and the feminist movement. During her seventy years with the YWCA since then, she was active in the Civil Rights movement, the March on Washington, and the planning and leadership of three World Conferences for Women that were held in Mexico in 1975, in Copenhagen in 1980, in Nairobi in 1985 and in Beijing in 1995.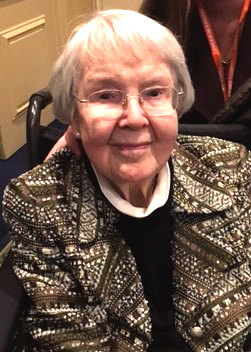 In her early years at the YWCA, Mildred soon became interested in its advanced inter-racial work. She knew YW leaders in Harlem and became a member of the National Board of the YWCA where she also worked with the National Council of Negro Women on passage of the Civil Rights Act and the Voter Registration Act. When the March on Washington was being planned, she was one of the leaders asked by Dr. King to get the YWCA to help sponsor it, and she has written vividly of that day of marching with the fear of violence which never took place, and then of moving close to hear Martin Luther King give his famous speech. As a result of her active life for women, she was then appointed to the U.S. Presidential Commission on the Status of Women in the early 1960s as well as a Committee Against Discrimination of the ACLU.
As she told a large group of international YWCA women in New York who were here by the early1970s for UN meetings, she soon found that while the male members of these commissions would frequently discuss feminine issues such as birth rates or worldwide fertility – or poverty problems, there were never any women present or consulted at all. So Mildred said she became a leader seeking out all her active women friends around the world and forming a coalition of Non-Governmental groups (NGOs) that led to the first international conference in Mexico City attended by 10,000 women in 1975. It was the start of the worldwide women's movement, with issues on the table such as women's rights and security, the world economy, South African apartheid and conflict in the Middle East. Mildred Persinger would then continue to work on those same issues in a 50-year career as the World YWCA's main representative to the United Nations. I have been told that she was a major backer and initiator of the work behind the Women's Conferences in 1975, 1980, 1985, and in 1995. This last one was so impressive with some 18,000 there and worldwide publicity, that it led to the UN having annual CSW meetings in New York City with some 5000 women attending. So, Mildred can be credited with playing a major part in this background and history of our women's international work.
In recent years, Mildred lived in Dobbs Ferry, NY, and was often consulted by many who knew her for her history of the international women's movement. She was always delighted to see women's rights in the forefront of UN proposals and actions. Her trunks full of records have been given to Hollins College where she graduated, and she loved to meet with young UN and YWCA delegates who have been carrying on the work that she really helped start. Now that we have lost her as of November 20, 2018, all of us who knew her can help spread knowledge of her impactful role in the women's movement and be inspired by the memory of such a wonderful friend and remarkable heroine.
Connie Tate
WSC Chair
March 2014 and December 2018