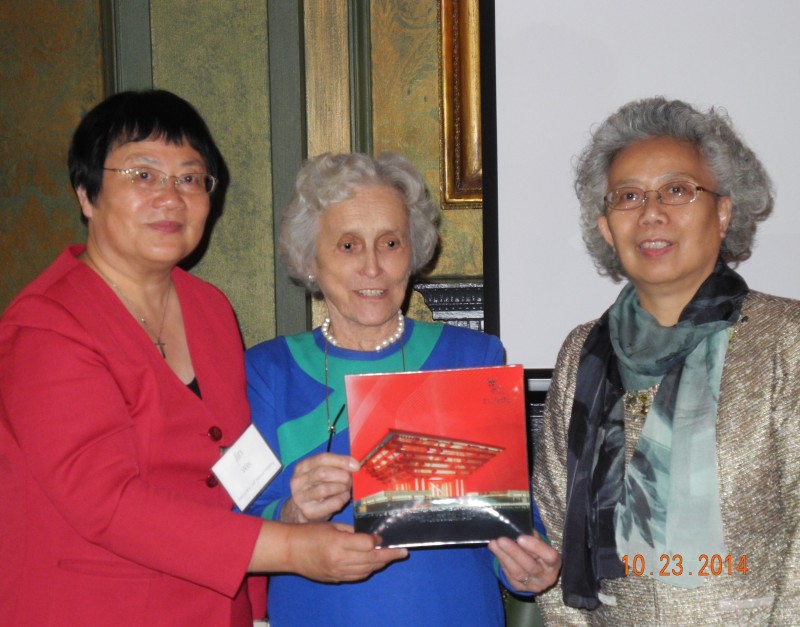 "What a great way to celebrate our 94 years of service to YWCA women around the world!"  Such were some of the words from the 60 members and friends attending the Annual Meeting of the World Service Council in New York on October 23rd as they welcomed two special leaders from China, Jin Wei and Yang Mingming.
The Chinese guests joined the General Secretary of the World YWCA, Nyaradzayi Gumbonzvanda, and USA World Board member Luna Lee, Human Rights leader for Eileen Fisher (EF) Clothes, in presenting an impressive picture of global YWCA work.  Nyaradzayi told of how the organization is meeting critical needs in 120 World YWCA member countries where it serves some 25 million women, and especially of its work in the crisis areas of South Sudan, Palestine and the Ukraine.  Luna spoke about how her YWCA experience has given her a gender sensitive lens when traveling to other countries where Eileen Fisher has factories. Her job is to ensure conditions are up to standards for employees including the safety of women going to and from work.
Jin Wei, president of the National YWCAs of China, and Yang Mingming, General Secretary of the National YWCAs of China, spoke graphically of how they serve 3.5 million members in 12 major cities, and how many of the needs are similar to the United States – especially in the areas of health, care for the elderly, workforce development, and education.  The National Council YWCA of China celebrated its 90th year anniversary in 2012 with a special meeting in Beijing that brought together 150 leaders from across China.
As members and guests heard about extensive YW work combating violence and inequality on several continents and of our leadership role at the United Nations, it was clear that the World YWCA is alive and still badly needed in this 94th year after our council started. Nyaradzayi spoke particularly and thankfully about how the council has given continuous support to the training of interns, to supporting new YWCAs and to providing emergency funds that enable the World YW to respond timely to YWCAs in troubled areas of the world.
The World Service Council was also delighted to welcome several new members including Laura R. Chasin, founder of the Public Conversations Project; Danielle Moss-Lee, CEO of the New York YWCA; Kim Watson of the Capitol Area YWCA; and Elizabeth Nash, a leading  UN representative for the World YWCA.
During lunch Claudia Poster acknowledged the 50th anniversary of the International Building Fund (IBF) that the World Service Council supports annually to help YWCAs in other countries with infrastructure – bricks and mortar. Several projects were described in a flyer that was  provided by Tracy Yellen, chair of the IBF committee.
Finally, all who attended heard of extensive preparations for the next international meeting of the YWCA World Council, which is scheduled to meet in Bangkok, Thailand, October 11-16, 2015. With the WSC 95th meeting scheduled for November 12th, 2015, we look forward to another exciting, informative event, following this inspiring meeting with our Chinese friends.
Connie Tate
Chair, World Service Council