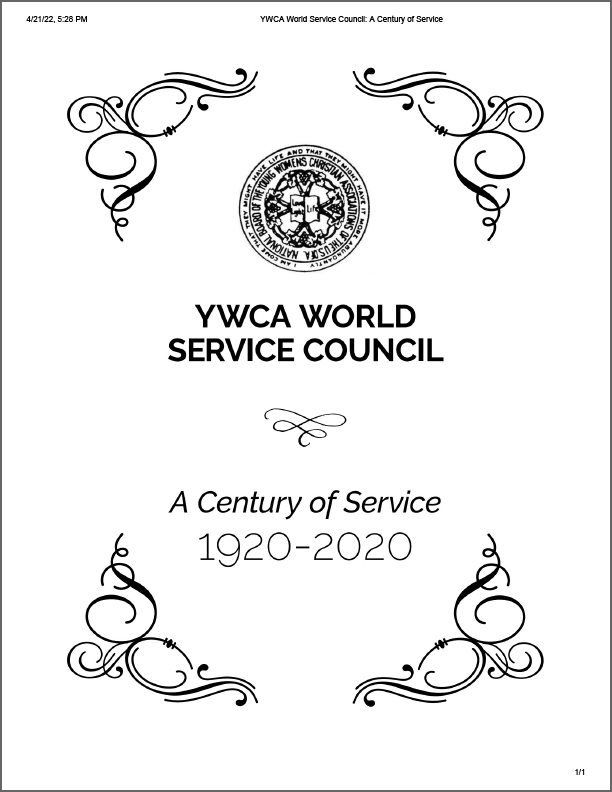 YWCA members around the globe celebrate World YWCA Day annually on April 24, and this year the World Service Council is delighted to share with you a link to a Centennial Booklet marking 100 years of World Service Council service. Compiled by Joelle Logue with contributions by many WSC members, the articles and photographs describe the many dimensions of the Council's international reach through the World YWCA. The role WSC has played over the past century has supported critical programming efforts of the World YWCA to advance development and leadership of women and girls around the globe. The booklet, while offering the opportunity to appreciate the needs we have met along the way, is also a reminder that we must be constantly ready to meet new needs as circumstances evolve in this imperfect world.
Watching the daily news of harrowing events in Ukraine with devastating impact throughout Eastern and Western Europe reminds us of our historic roots when the YWCA was asked to help rebuild YWCAs in Europe after both World Wars. It is in this same context that the WSC has created a special Emergency Fund available to help national associations in those countries that are serving women and girls impacted by this conflict. What this unimaginable crisis has taught us is that life can be perilous and no one knows where in the world the next natural or man-made disaster may occur to which the YWCA will need to respond. Thus, the sustaining flexibility of the WSC in cooperation with the World YWCA is a resource that must be prepared to respond.
As you review the Centennial Booklet with this link https://online.fliphtml5.com/nbye/futl/ keep in mind the importance of our global movement and consider making a generous donation to the World Service Council so it can continue to be a supportive arm with a long reach.