The Commission on the Status of Women or CSW60: March 11 – 16, 2016
Submitted by Connie Tate, Co-Chair of WSC
Youth Forum:
The 60th session of CSW got off to a fine start this year with a new preliminary event called the Youth Forum that was held on March 11th and 12th and co-sponsored by UN Women and the World YWCA." CSW, for those who may not know, is the initial name for the annual session at the United Nations that addresses the rights of women with UN Commissioners hearing and recommending requests for UN action on problems such as violence, child marriage and the many legal rights that women continue to lack after 70 years of UN work. For those of us who stopped by, the sessions had full rooms with a two-day total of some 300 young women and 100 young men from about age 16 to 25 who were trained and prepped to speak on all the major issues affecting women and girls at the later CSW meetings – issues such as poverty, education, reproductive health, empowerment of all kinds and the end of violence in all its forms, as embodied in this year's SDG goals of the United Nations. The results were obvious in many meetings later in the week when these same younger delegates spoke often and well, and the World YWCA deserves credit for promoting such a new program.
Consultation Day:
The Youth Forum was then followed on Sunday, March 13,th by an all-day session called Consultation Day, which was produced as in previous years by the NGO Committee on the Status of Women under the leadership of UN Women. Two of the key speakers included Phumzile Mlambo-Ngcuka, the Executive Director of UN Women and Under Secretary of the UN, who was a World YWCA Youth Director in Geneva early in her career, and also Ambassador de Angular Patriota of Brazil, Chair of the Commission. They were followed by Bandana Rana, one of two Women of Distinction awardees, who told of her own experiences with violence as mother, sister and daughter.
Some ten other speakers and panelists then gave their own short talks on a panel about the major themes of this year's CSW – how to keep the focus on women, how to include all their varied needs and causes, and how to "not leave anyone behind. " The packed house at the 92nd Street Y in the city also heard an inspiring Syrian singer who started the program; as well as a rap duet of two women who managed to make women's causes come alive in humorous poetry. The day ended with four well-attended breakout sessions in the building where groups talked about their own key issues – migration, economics, education and climate change. All in all, a fine start for the week's work to come!
YWCA Orientation followed by USA and WSC Reception:
According to the best count currently available, some 3200 from about 120 countries registered for this year's CSW, and the list for the World YWCA and YWCA USA attendees totaled an impressive 102 from 28 countries, with one or two unable to get visas at the last minute. Some 65 of the World and USA delegates had a two hour orientation session at the Yale Club following Orientation Day and then the same room was turned over to a gala reception for all the YW delegates and about 30 extra USA and WSC members and friends. A special program began with inspiring words from Dara Richardson-Heron, CEO of the YWCA USA on the cause of women's rights, followed by Connie Tate, Co-Chair of the WSC, who gave a brief history of that 90 year-old organization and introduced some prominent World YWCA members and "heroines" such as Mildred Persinger, who have been leaders in advancing women's issues on a global scale.
Three young women speakers representing the YWCA from Tanzania, the United States and Papua New Guinea, then gave some outstanding brief presentations about their own, often-dramatic work promoting women's rights of various kinds in their countries. They were followed by Deb Stock, WSC Co-Chair, who introduced the World YWCA President from Trinidad and Tobago, Deborah Thomas. Deborah gave her own talk about the retiring World YWCA General Secretary, Nyaradzayi Gumbonzvanda, who is leaving the YW in May for family reasons after a very successful term of seven years. Nyaradzayi was praised for her many contributions and leadership in making the World YWCA a leading presence at the United Nations. She also spoke briefly and received an album with pages of pictures of World YWCA, USA and WSC members – all to great applause. The party ended after about three hours with wide acclaim for the years of YWCA work and eagerness to attend events of the CSW in the two weeks still ahead. A report on one of these special sessions follows below:
Special Report on Session at the US Mission on Friday, March 18th on North Korea attended by Jill Sen, one of our four major World YWCA and WSC representatives: "Voices from North Korea"
March 18, 2016 (CSW 60)
US Mission to the United Nations, UNHQ
reported by Jill Sen, World YWCA Representative at United Nations Headquarters
On the heels of escalating tension in the Korean peninsula, and in honor of CSW60, on March 18, 2016, the United States Mission to the United Nations held an event featuring four women Defectors from North Korea and five UN Ambassadors to the United Nations (UK, Japan, Australia, South Korea, USA). The panelists bravely shared harrowing testimonies on the challenges of daily life as a woman simply trying to live peacefully in North Korea, and each subsequent terrifying attempt to flee. They revealed horrific stories of mass starvation, poverty, inhumane working and living conditions, abduction, rape, trafficking, forced abortion, forced infanticide, the forcing of school children to witness military-style executions, and other atrocities committed upon innocent individuals unjustly held at prison camps within North Korea. Their voices added to the growing compendium of 'crimes against humanity' being recorded by the international community against the North Korean government in preparation for trial at the ICC. The room was filled with Press Agents, Political Strategists, Writers, Washington insiders and members from Civil Society Organizations working in the region. It was mentioned that North Korea typically denies such accusations of human rights violations.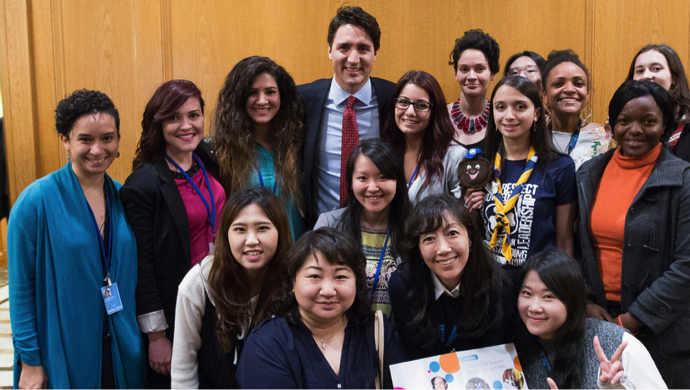 In attendance were Mimi Han (YWCA of South Korea), Jill Sen (World YWCA) and Anna Weyher (World YWCA). Ms. Sen agreed that the recent up scaling of nuclear testing by North Korea must be stopped, but questioned the current strategies of economic sanctions and increased military presence in the region. She emphasized concern that heightened threats could anger North Korea into military retaliation, while economic sanctions may hasten death by starvation of already malnourished civilians, particularly children. Instead, she pressed UN Member States to focus on negotiations minimally including the four parties of North Korea, South Korea, China, and the United States to form a peace treaty addressing denuclearization of the entire Korean peninsula.
Ms. Sen's suggestions urging the path to peace over warfare, particularly in light of escalating military tensions and economic sanctions, are not her own. They echo the recommendations of millions of women's rights and peace activists worldwide including The YWCA of South Korea, the World YWCA (120 countries), and members of the 2015 Women's Peace March across the Korean De-militarized Zone (DMZ). Unfortunately, the question went unaddressed. Several attendees touted that China or North Korea will never enter into discussions, but as Ambassador Power (USA) exited the room, she responded to the question, "Of course. Diplomacy is always the priority."