More than 400 women from 73 countries gathered in Bangkok, Thailand for the 28th YWCA World Council Oct. 11-17. The YWCA USA delegation was 38 strong with CEO Dara Richardson-Heron and National Board Chair Marsha Henderson heading up the six voting delegates that included Paula Penebaker, Andrea Thaxton, Devan Drabik and Eileen Qui.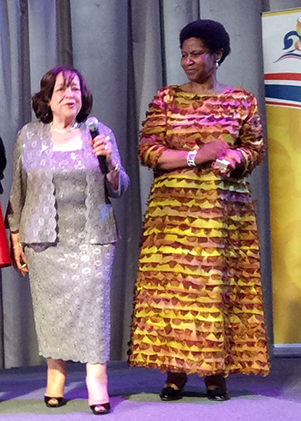 World Service Council members in attendance were World Treasurer Carolyn Flowers, World Board member Luna Lee, Keynote speaker Rima Salah, Joelle Logue, Deb Stock, Doris Pagelkopf, Elisha Rhodes, Jenna Foster, Martha Kamber, Kim Diop and Robyn Cousin.
With the conference theme "Bold and Transformative Leadership," the major agenda item for the week centered around discussion of the Envisioning 2035 document with its overarching goal of impacting 100 million young women and girls by 2035. World YWCA General Secretary Nyaradzayi Gumbonzvanda promoted the document and cheered on those who spoke to the importance of the vision in sustaining the movement and making a difference with young women and girls around the globe. Three strategic objectives were outlined for the next quadriennium:
Envisioning the full implementation of a human rights-based approach to young women and girls leadership in the context of shared, transformative and intergenerational leadership.

YWCA women, young women and girls become the driving force in claiming and influencing women's rights' policies, leading change and setting global priorities for Young Women's Leadership and realizing human rights.

Building an effective, well-governed, accountable and sustainable movement that has robust assets to sustain the work of the YWCA movement.
A variety of plenary speakers inspired and challenged attendees about the work ahead of them. Under-Secretary-General and Executive Director of UN Women Phumzile Mlambo-Ngcuka, a former program director of the World YWCA, applauded the movement for transforming the world with intention and purpose individually, regionally, and globally. She sees the YWCA as in charge of young women's development and should become the go-to organization of young women. She mentioned the 15-year history of UN Resolution 1325, noting its uneven progress and that true and sustainable development can only happen when women and girls are front and center. She also stated that we must never lose our impatience in achieving Goal 5 of the new SDGs that calls for ending all forms of discrimination against women.
Our esteemed member Rima Salah spoke about her work with the UN and called for the next UN General Secretary to be a woman. She saluted Mildred Persinger and Nita Barrow for pioneering women's leadership at the UN. In referring to the new SDGs and their promise to deliver gender equality by putting people at the center of development and by promoting partnerships, she insisted that this global call to action must be accountable with young women's voices being heard.
Numerous work shops throughout the week provided information on a variety of topics including the following: governance and intergenerational leadership (a co-presidency model); violence against women prevention through innovative youth programs; women's issues on military bases; advocacy around women's sexual and reproductive rights; shaping policy and social media; integrated housing and support models; indigenous women's rights; conflict resolution and peace building; mentoring; social enterprise; and ending child, early and forced marriage.
New Affiliates:

 

YWCAs of Burkina Faso and Armenia
Developing Affiliate:

 

Timor Lieste
Disaffiliation:

 

YWCA Tonga
Two constitutional amendments were approved to address filling vacancies on both the World Board and Nominations Committee.
Resolutions:
YWCA Canada called for the adoption of a four-year advocacy plan that would address key advocacy outcomes through targeted, international and regional meetings.

 

(Passed)
YWCA Great Britain called for action on the elimination of all

 

discrimination based on race, ethnicity, religion or belief, health, status, age, class, caste, nationality, sexual orientation, and gender identity or expression including practices, attitudes, policies and laws in their communities and countries.

 

This work must include solidarity with and support for all women, young women and girls, with lobbying and advocacy for the full realization of human rights. (vigorously debated but passed)
YWCAs Japan and Korea called for denial of nuclear energy and weapons and a determination to advocate for

 

nuclear free communities with increased roles for women in line with UN Security Council Resolution 1325. (This resolution passed with an amendment allowing for nuclear medicine considerations).
Calls To Action:
Young Women asked for support by connecting all young women on boards globally, in addition to increased funding and resources, plus participation of young women regarding topics, speakers and space at World Council.

Palestine, Lebanon & Jordan called for more women in peace-keeping positions in light of the increased war and aggression in the region. They advocated

 

working with governments regarding forced displacement, compliance with human rights standards and promoting peace with justice.
Elections: 
President: Deb Thomas-Austin

 

(unopposed)

Treasurer: Emma Bird of Australia

North American World Board Members:

 

Jenna Foster (USA), Jamie Medicine Crane and Katie Ungard

 

(Canada)

Nominations Committee: Lynne Kent (Canada)
60% of the new World Board are young women 30 and under.
Cultural Events:
A royal dinner and entertainment with the Princess of Thailand.

Despite horrendous Bangkok traffic, the travel to the Siam Niramit multi-media performance on Thai history, beliefs and festivals was worth the wait. Stunning costumes and set designs on a constantly moving stage plus photo ops with performers and elephants added to the evening.
Next World Council site was announced:  Johannesburg, South Africa 2019